Call for Papers
Fourth IEEE International Symposium on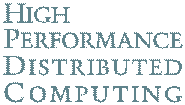 August 1-4, 1995
The Ritz Carlton
Pentagon City, VA
---
SPONSORS:
IEEE Computer Society - TC on Distributed Processing
Northeast Parallel Architectures Center (NPAC) at Syracuse University
IN COOPERATION WITH:
ACM SIGCOMM
Rome Laboratory
---
THEME:
The Fourth International Symposium on High Performance Distributed Computing is a forum for presenting the latest research findings on the application of parallel and distributed computing for solving computationally intensive applications across a network of high-performance computers. Authors are invited to submit full papers on all aspects of high performance distributed computing. Papers that deal with high-level tools, languages, and environments, as well as novel applications, are of particular interest. Papers receiving the best reviews will also be considered for publication in a special issue of the journal Concurrency: Practice and Experience on high-performance distributed computing.
TOPICS OF INTEREST (include, but are not limited to):
Software environments and language support for high performance distributed computing
Parallel and distributed algorithms to solve computationally intensive problems across a LAN, MAN, or WAN.
High performance I/O and file systems
Fault tolerance
Architectural support for high-speed communications or interconnection networks
Efficient communication interfaces for distributed computing
Gigabit network architectures
Networking for multimedia data
HPDC applications and case studies
PAPER SUBMISSIONS:
Authors are requested to submit by February 3, 1995 five copies of their manuscript (not to exceed 25 double-spaced pages) to:

Prof. A. S. Grimshaw
Department of Computer Science, Olsson Hall
University of Virginia
Charlottesville, VA 22903-2442
USA
804-982-2200
grimshaw@virginia.edu


Authors will be notified by April 25,1995.
Final camera-ready copies are due by May 26, 1995.

Tutorials proposals should be submitted to the Tutorials Chair.

For more information about the symposium, e-mail to

hpdc@nova.npac.syr.edu
---
Last modified: Fri Dec 2 13:30:44 1994 [HPDC '95]